Featured News - Current News - Archived News - News Categories
Plans for Northland Corridor taking shape on Buffalo's East Side
by chocieni
Wed, Jan 27th 2016 04:00 pm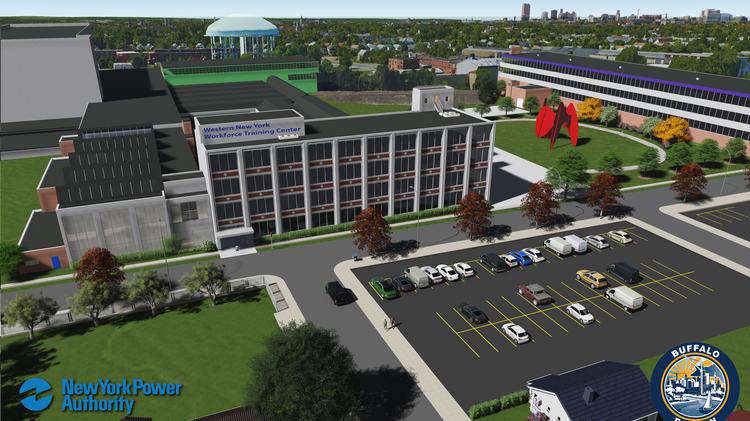 The development plan for the Northland Corridor project continues to be fine-tuned, even as the East Side initiative is going through the approval process in City Hall.
In an early project summary, delivered Tuesday afternoon to Buffalo Urban Development Corp. directors, officials detailed plans for the 35-acre development running along the Northland Avenue spine between Grider Street and North Fillmore Avenue.
BUDC, the city's development agency, has acquired multiple former — and often times forgotten — industrial and commercial properties with the intent of bringing them back to life through a combination of public- and private-sector investments. The project is part of Mayor Byron Brown's vision of bringing the city's economic development renaissance to the East Side.
Northland's centerpiece is a 100,000-square-foot Western New York Workforce Training Center, which is under review by the Buffalo Planning Board. The $44 million training center is part of the Buffalo Billion development initiative and targeted for a portion of the former Niagara Machine and Tool Works building, a circa-1911 structure, located at 683 Northland Avenue.
The center will occupy slightly less than half of the 235,000-square-foot building.
Targeting advanced manufacturing, representatives from Empire State Development are currently negotiating with Erie Community College, SUNY Buffalo State and Alfred State College to run the center's training programs. BUDC leaders also hope to have other "life services" offered for the training center's participants.
David Stebbins, BUDC executive vice president, said the center is ramping up to meet the growing demand for well-trained and prepped workers in the advanced manufacturing sectors.
"There is a huge demand for that level of training," Stebbins said.
Stebbins said because of the growing demand, the training center is on pace to be open by 2017's third quarter.
"But, we've really got to move fast to make that happen," he cautioned.
Among the 35 acres of Northland property, Stebbins said he hopes most of the buildings — many of which date back to the early 1900s — can be saved and renovated. Combined all the buildings total approximately 750,000-square-feet.
Some, however, may have to be razed because of their condition.
Stebbins and Peter Cammarata, BUDC president, estimate those buildings that can be preserved may total 500,000-square-feet, but even the demolished buildings can make way for new, market-driven developments.
"Existing industrial space, no matter how bad (shape) it is in may be more valuable than dirt," Stebbins said.