Featured News - Current News - Archived News - News Categories
Work to start at Northland Avenue development hub site
by chocieni
Wed, Jan 27th 2016 02:05 pm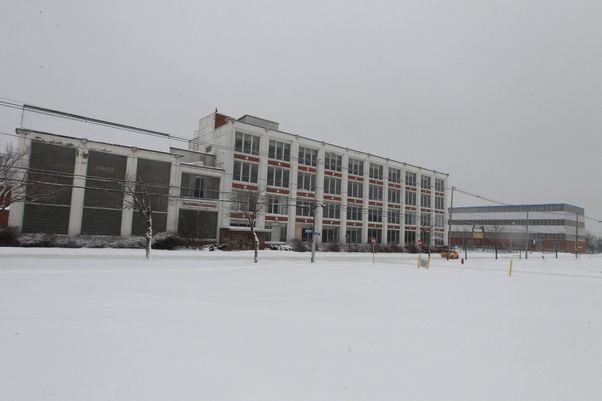 The Buffalo Urban Development Corp. on Tuesday authorized LaBella Associates to conduct pre-development services on one of the industrial properties in the proposed new Northland Avenue Belt Line Corridor development hub, in preparation for eventual re-use of the site.
BUDC approved a $24,970 contract with LaBella for subsurface exploration, structural, materials and asbestos assessment, and other work on 577 Northland Avenue, a corner property that is positioned as "a very visible entry point" to the hub area, immediately off Fillmore Avenue, according to a BUDC memo. BUDC intends to demolish two derelict structures - a storage garage with a roof that nearly caved in and a burnt-out office facility - and clean up the site, before it can be used.
"It is one beat-up property, let me tell you, and a horrible gateway to what we want to create there," said BUDC President Peter Cammarata.
The agency in late October sent a request-for-proposals to five firms familiar with the overall Northland project from other work, and four of the firms responded by the Nov. 18 deadline. LaBella's proposal was half the cost of the most expensive estimate, and also includes Foit-Albert, KHEOPS and Sienna Environmental as minority- and women-owned contractors.
As part of a $6.7 million Buffalo Billion initiative to create a light industrial hub on Buffalo's East Side, BUDC bought 12 properties totaling 35 acres, with about 700,000 square feet of existing building space. The agency is now developing final plans for the properties, particularly five of them with major buildings. "We want to be careful about what we do with them," said BUDC Vice President David Stebbins. "We understand that existing industrial space, no matter how bad it might be, is more valuable than dirt."
BUDC plans to reuse three and a half buildings, while demolishing the rest. One of them, 683 Northland, will house a 100,000-square-foot Workforce Training Center, using a 40,000-square-foot office building in front plus some rear space, while the rest of the rear space will be subdivided for other tenants. Also, 631 Northland can house one large industrial user in a big-box building, while 741 Northland can be subdivided for smaller firms or entrepreneurs. "We're going to try to restore and save as much of the buildings as possible," Stebbins said.
By contrast, 537 East Delavan will see a mixture of demolition and preservation. "There are some major environmental issues with this property," Stebbins said. "Because of that and severe deterioration of that building, we'll demolish most of it," except for a 30,000-square-foot industrial building on the Delavan side and a few smaller facilities.
The Workforce Training Center, which was presented Monday night to the Buffalo Planning Board for initial environmental review, will involve a partnership with local educational institutions, likely Alfred State College, Erie Community College and Buffalo State College, Stebbins said. It may cost $15 million to $20 million ultimately, and may entail historic or brownfields cleanup tax credits to help with financing.
Also, BUDC will seek a private-sector operator to run the overall facility, and will likely also seek providers for additional services for people at the training center. "The target population has other needs in their lives besides a better job," Stebbins said. "We hope to address that through wraparound services."
Plans call for opening the facility in fall 2017. Already, 200 people attended the first public meeting on the Northland project, and a second forum will be held Feb. 24, from 6 to 8 p.m. at the Delavan-Grider Community Center.