Featured News - Current News - Archived News - News Categories
Riding recent growth, city pushes for more development
by chocieni
Tue, Nov 24th 2015 10:00 pm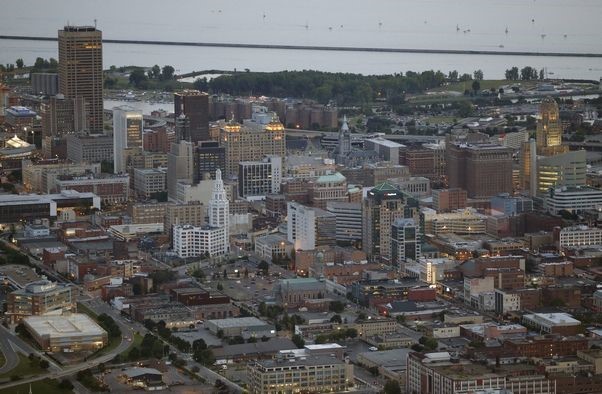 Riding recent growth, city pushes for more development
Guide helps investors find sites, resources
Published: November 24, 2015, 07:56 PM
Updated: November 24, 2015, 09:20 PM
City officials plan to send out copies of a new Downtown Development Guide to more than 450 local and national real estate developers - including many minority-owned and women-owned firms - in a bid to encourage even more activity in the city's urban core.

The new 12-page brochure, unveiled Tuesday after more than a year of work, is part of the city's broad-based economic development push, as officials seek to lure more outside dollars to Buffalo. They're trying to capitalize on billions of dollars of existing investment by both the public and private sector, along with growing national attention for Buffalo.

Full of data, maps, and bright pictures, the guide is designed to make it easy for investors to find downtown development sites, while laying out an array of available federal, state and local resources and incentive programs, such as tax breaks, historic and brownfield tax credits, energy-efficiency rebates, grants and low-interest loans.

"We've been working to start to strengthen our relationships with national developers as well as minority developers," said Brandye Merriweather, vice president of downtown development for the Buffalo Urban Development Corp., which created the brochure with help from the city's Office of Strategic Planning, Buffalo Niagara Partnership, Buffalo Niagara Enterprise, Buffalo Place and brokerage firm CBRE Buffalo.

It identifies more than 20 properties and 21.5 acres available for projects downtown. The parcels are located throughout the central business district, Canalside, the Buffalo Niagara Medical Campus and in Larkinville, ranging in size from small parcels around Canalside of as little as 0.04 acres to as large as the three-acre property at 142 Perry St.

"This new guide is a great resource that will serve to encourage the return of underutilized property back to productive use," said Buffalo Mayor Byron W. Brown.

The brochure also showcases some of the biggest recent redevelopment projects in the city, demonstrating the transformations already taking place, such as the $200 million HarborCenter, the $150 million Conventus, the $110 million 250 Delaware, the $8 million Planing Mill and the $50 million Larkin Center of Commerce. It also touts the need for new amenities to meet the demands of a growing population and workforce.

It's also loaded with statistics. For example, there are more than 5 million square feet of Class A office space that is 81 percent occupied, and 5.48 million square feet of Class B space that is 82.5 percent occupied. There are 118 major employers, with 87,000 employees, led by M&T Bank with 4,427 downtown workers and Buffalo General Medical Center with 4,000. Geographically, 67,156 people work in the central business district, with another 12,000 on the medical campus, 4,302 in Larkinville and 1,775 around Canalside.

The brochure, which was sponsored by National Grid, will be mailed out within two weeks to about 70 to 80 local firms, plus a large swath of nationwide developers, Merriweather said. Officials plan to follow up with developers by email, telephone and site visits.

"We need to do more to tell our story, and this is a very digestable and accessible document that is really dense with a lot of good information, not only for businesses but for other people in this region to understand what is happening at this time," said Brendan Mehaffy, executive director of the city's Office of Strategic Planning. "This will be a great tool for the city and for BUDC to get our story out there."