Featured News - Current News - Archived News - News Categories
Study finds need for Northland Avenue sites to be cleaned up before redevelopment Groundwater, gas spill among the problems
by chocieni
Wed, Jul 22nd 2015 10:00 pm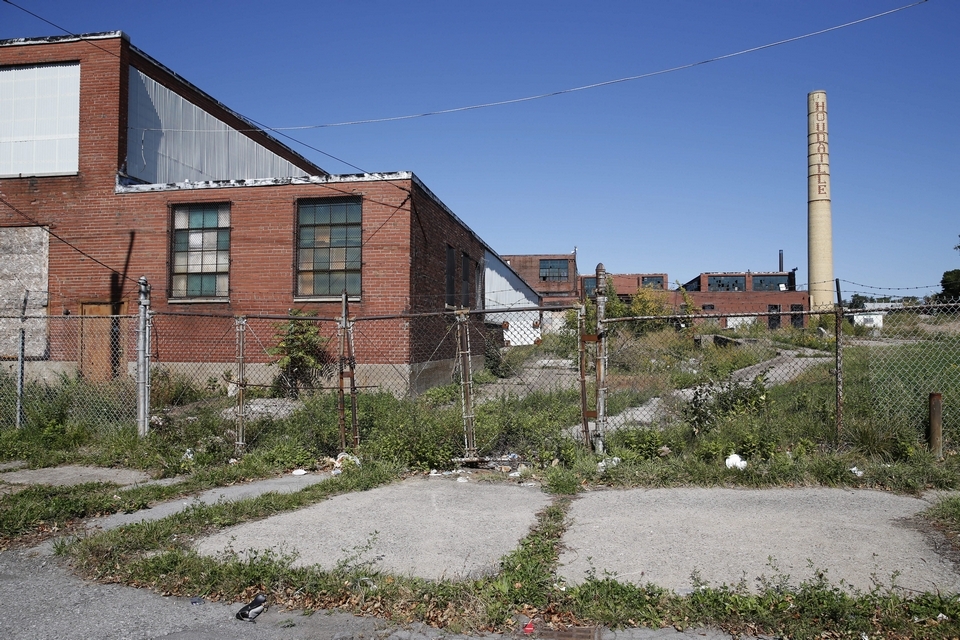 Study finds need for Northland Avenue sites to be cleaned up before redevelopment
Groundwater, gas spill among the problems
BY: Jonathan D. Epstein - Buffalo News - July 22, 2015
A vacant industrial complex on Northland Avenue in the area where the city plans to build a center of industrial businesses. That plan will be slowed by recent environmental review discoveries
An environmental review of a couple of properties on Buffalo's East Side that are part of the state's planned light industrial business hub has turned up a hidden underground storage tank full of water, a possible small gasoline spill, buried railroad ties and a groundwater well.

Even so, officials with the Buffalo Urban Development Corp. say, it could have been much worse, considering the heavy industrial use of the Northland Avenue Belt Line Corridor properties.

"There's no fundamental surprise with this property," said Kevin J. Zanner, an attorney at Hurwitz & Fine P.C. and secretary of the development agency, during the agency's Real Estate Committee meeting. "It's a former industrial property with a history. This is the cost of doing business out there."

"No, the surprise is that it's not worse," agreed Craig Slater, an environmental lawyer and chairman of the agency's Real Estate Committee.

BUDC, using $6.7 million from Gov. Andrew M. Cuomo's Buffalo Billion funds, acquired about 50 acres of industrial property in the Northland area to create a light industrial economic development hub. The zone includes a dozen properties, with about 700,000 square feet of manufacturing space in existing buildings. BUDC then hired several firms to evaluate the environmental risks, building conditions and market potential of the properties.

The study by GZA GeoEnvironmental of New York examined soil borings, water samples and other testing throughout the properties to determine potential environmental problems that may need to be cleaned up before the sites can be redeveloped. Researchers looked particularly at areas around known or suspected storage tanks - both above and below ground - as well as known railroad spurs from the main Belt Line.

At 577 Northland, a half-acre corner property, the firm discovered a buried tank that appears to be filled with water. The tank's size could not be completely determined, but GZA senior project manager James Richert said officials estimated that it could be as much as 4,000 gallons based on some measurements.

Additionally, Richert said researchers smelled old gasoline and saw staining on the soil next to the tank, so they notified the state Department of Environmental Conservation of a possible spill. There's also a 555-gallon above-ground storage tank. The tanks would have to be removed, emptied and disposed of, and the soil would have to be cleaned, costing as much as $50,000 that would come out of the state money, officials said.

GZA also found a reported railroad spur, buried under some fill and ground cover, and reported an "elevated" level of pollutants that "represents a significant environmental concern," according to a report to BUDC. The firm advised the agency to cover that area with a foot of clean soil over it or to cover it with pavement or building slab, such as for an entrance road or sidewalk.

In all, officials estimated the total cost at about $75,000.

LiRo Engineers, another firm hired by BUDC, also discovered a groundwater well, at least 100 feet deep, at 537 E. Delavan Ave., roughly at the center of where contamination has previously been detected. BUDC Vice President David Stebbins said it's likely not the source of the pollution, but may be helping to draw soil contamination to that area, and would have to be addressed.

A minor petroleum spill was reported at 777 Northland as well.

Meanwhile, a separate evaluation of building conditions and potential uses has found structures at 537 E. Delavan and 577 Northland to be "in very bad shape," while part of another building collapsed this month, Stebbins reported. Even so, he said, "an existing building is probably as valuable or more valuable than a piece of raw land, so we might want to work a little harder to keep some of these buildings."