Featured News - Current News - Archived News - News Categories
Northland training center about 'skills for the future'
by chocieni
Thu, Jul 16th 2015 09:00 am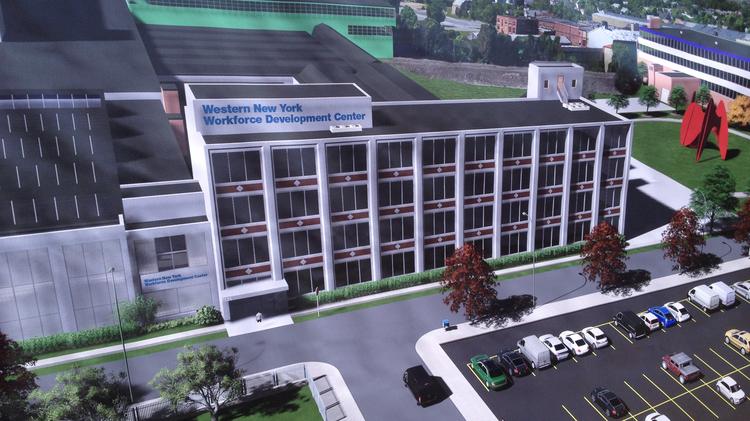 Business First
July 16, 2015 - James Fink
Northland training center about 'skills for the future'
Promises to bring the Buffalo Billion's economic development ripple effect to the city's East Side are being kept in a larger format than many first imagined.
Gov. Andrew Cuomo, in Buffalo Wednesday afternoon, said a century-old, long-vacant industrial manufacturing building is being brought back to life as the Western New York Workforce Development Center. The Northland Avenue building, a one-time home to a Curtiss-Wright plant, will be one of the centerpieces of Buffalo's Northland Belt Line development corridor aimed at bringing high-tech manufacturing jobs and training to the economically challenged East Side.
Officials estimate it may cost as much as $44 million to create the training center, which will focus on teaching workers electronics-based advanced manufacturing jobs. The center should be operational by 2017's third quarter.
"Electronics is becoming more and more sophisticated," Cuomo said. "This is about developing skills for an entirely new workforce."
Many of those trained may end up working in the massive Solar City plant that could employ as many as 1,500 people in the coming years. But, the center will also be geared for smaller manufacturers, said Howard Zemsky, Empire State Development president and CEO.
"To work in a solar panel plant, you need to understand solar panels," Cuomo said. "There has been this increased evolution in advanced electronics. This center will help Buffalo make up for what it lost in the past 30 years."
The 246,902-square-foot building, which dates back to the early 1900s, is one of 11 different properties assembled by the Buffalo Urban Development Corp. to create the Northland corridor. The acquisitions were financed through a $6.7 million allocation made from the Buffalo Billion.
"We are not in the steel mill days any more," said Assemblywoman Crystal Peoples-Stokes.
BUDC will own the building but which entity operates the training center is still being negotiated as is the number of workers expected to be educated in the facility.
"This is the next big step forward in prepping workers for the jobs that are out there," Zemsky said.
While Buffalo has created 13,100 private-sector jobs from May 2014 and this past May, there are still large number of openings, especially in the advanced manufacturing fields. More than 1,000 openings remain in those fields, officials said.
Besides anchoring the Northland corridor, the center is designed to help bring the city's economic resurgence into its many neighborhoods.
"This is something that has both short term and long term benefits for the city," said Buffalo Mayor Byron Brown.
Cuomo agrees.
"This is about a different kind of revitalization," Cuomo said. "This is about revitalization with a social conscious."