Featured News - Current News - Archived News - News Categories
BUDC acquires 'final key property' in East Side business park plan
by chocieni
Thu, Jun 11th 2015 08:00 am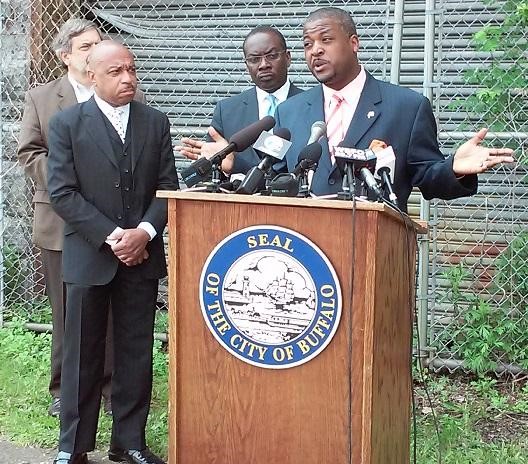 WBFO - By Michael Mroziak - June 10, 2015
Throughout times, people have come back and forth to take a look at them. Talk was there but nothing really happened," said Buffalo Common Council Majority Leader Demone Smith. "But now, with the Buffalo Billion and the commitment from the mayor to do something on the East Side, it's now coming into fruition and in the next couple of years this will be a thriving area."
Smith, along with Buffalo Mayor Byron Brown, Common Council President Darius Pridgen and BUDC president Peter Cammarata, stood in front of a building that was once home to Curtis Wright and previously Otis Elevator. Cammarata pointed out that the Northland Beltline Corridor, as this section is called, has an advantage over other new development plots throughout the city.
"The infrastructure is here," he said. "Utilities and so forth, the roadway. We had to build all that at our other sites but that's already here."
BUDC has retained LiRo Engineering to study the grounds and form a redevelopment strategy for the planned business park. This will include, according to Cammarata, a study into what level of brownfield cleanup may be required.
At times during the Wednesday news conference, large trucks rolled by creating noise that led speakers to hold their comments momentarily. Pridgen said that's a good problem to have in this neighborhood.
"This is huge for this neighborhood," he said. "This is huge for the city of Buffalo. This is huge even for the region to have a park like this, in the heart of the city, close to our expressway but in a great neighborhood, in a rebounding neighborhood."