Featured News - Current News - Archived News - News Categories
BUDC acquires former Curtiss-Wright plant for Northland expansion
by chocieni
Thu, Jun 11th 2015 08:10 am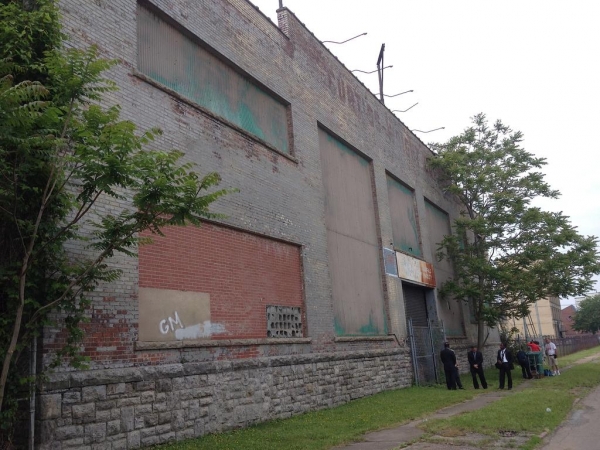 June 10, 2015 - Business First - By: James Fink
The Buffalo Urban Development Corp. has acquired a 90-year-old former industrial site that officials hope will be home to a new manufacturing or high tech business in the coming years.
BUDC, through its Nordel II LLC affiliate, bought the long-vacant, 80,000-square-foot plant on Northland Avenue and adjoining five acres from Buffalo businessman John Giordano, paying $50,000, according to public documents.
"I view this as another significant acquisition," said Buffalo Mayor Byron Brown, who is also BUDC chairman, in redeveloping the site.
The parcel is one of more than 11 BUDC has acquired in the past year as it is creating the Northland Avenue Belt Line Corridor, an urban business park that will mirror others developed by the city agency in recent years, including the RiverBend property along South Park Avenue and the Buffalo Lakeside Commerce Park.
The park's development funding comes from $6.7 million that has been allocated from the Buffalo Billion fund.
In all, the properties account for more than 50 acres and could potentially house more than 700,000-square-feet of space, depending on tenants landed for the business park.
Brown said BUDC may be acquiring more land, perhaps as much as another 10 acres.
The fate of the Northland Avenue plant will be determined later, said Peter Cammarata, BUDC president. The building dates back to the 1920s and was home to an Otis Elevator plant and also a Curtiss-Wright manufacturing operation before Niagara Machine and Tool Works was in business there. It has been vacant for more than 30 years.
"This area, for years, has been very quiet and very dormant," said Rev. Darius Pridgen, Buffalo Common Council president. "This is huge for this neighborhood and the City of Buffalo."
Brown said the Northland park is designed to bring private-sector investment and new jobs to the East Side of Buffalo.
Brown said, ideally, he'd like to see manufacturing or high-tech companies investing in the area, but he is keeping an open mind.
"Clean and green manufacturing should be targeted," Brown said.
Demolition and other work needed to make Northland shovel-ready should be completed within the next year. Marketing is just beginning.
"This is an area that I've been looking at as a development site for the past 20 years, going back to when I was in the State Senate," Brown said. "I felt all along this is a good site for a business park."