Featured News - Current News - Archived News - News Categories
Master plan unveiled for downtown Buffalo's streets
by chocieni
Wed, May 27th 2015 08:00 am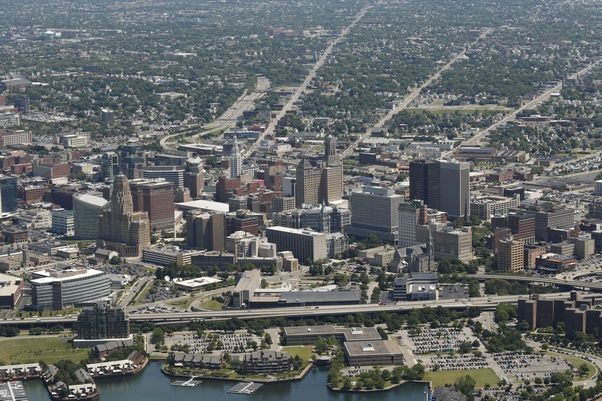 Four areas of downtown Buffalo will be targeted for millions of dollars in streetscape and other infrastructure improvements over the next 20 years under a master plan released Tuesday designed to make the city's urban core more walkable, more appealing to residents and more attractive to private investment.
The new Downtown Infrastructure Master Plan lays out a series of enhancements to key streets, districts and public squares to bolster the appearance and feel of the city center for residents, employees and visitors, while making the downtown more vibrant.
At the same time, it seeks to make the area more cohesive and pedestrian-friendly, by improving access and connections. And it calls for traffic calming, more accessible green space and public space, and a "softening" of barriers like highway overpasses.
The goal is to provide a framework for future public-sector investments and projects, using shared objectives in making decisions about where to target new initiatives. But it's also flexible enough, officials said, so that it can be adapted to tie in new projects to downtown and neighborhoods.
The plan also builds on more than $11 million in existing infrastructure spending by the city at Canalside, the Cobblestone District, Larkinville and the Buffalo Niagara Medical Campus. And it seeks to leverage and encourage private-sector investment to follow.
"It's going to take us to that next plateau with respect to downtown access and just the way you feel when you're traveling around downtown and walking the streets," said Brandye Merriweather, project coordinator for downtown development at the Buffalo Urban Development Corp., which shepherded the initiative. "It's going to be great for attracting more investment and more residents. Residents want to feel they're part of a place, part of a neighborhood, and the recommendations in this plan will take us to that point."
Consulting firm Urban Strategies spent a year developing the $150,000 plan, with help from BUDC, the city's Office of Strategic Planning, the Department of Public Works, Buffalo Niagara Partnership, downtown transit agencies and a mixture of businesses, residents and other stakeholders. The plan, which was funded by grants from National Grid USA and National Fuel Gas Co., is available for viewing on the BUDC website, buffalourbandevelopment.com.
Officials are now evaluating where further design work is needed, and calculating potential costs. "It's substantial, and we really need the input and support from the private sector in order to continue what the public sector has already started doing," Merriweather said. "We really want to see the private sector come in and help."
Creation of the new infrastructure plan comes as Buffalo is experiencing a redevelopment boom not seen in the city in decades, with billions of dollars in public and private investment that is driving new construction activity and adaptive reuse projects citywide, but especially in the downtown core. Aging warehouses, manufacturing facilities and even office buildings are seeing new life as mixed-use facilities with apartments, storefronts and new office space, filled by businesses and residents who want to be in the city once again.
So officials want to coordinate further investments in the city's infrastructure both to support what is already occurring and to foster more. Already, the city has either completed or is working on projects involving Ellicott Street, Seneca Street, Genesee Street and Pearl Street. The new projects will also tie in the city's investments along Niagara Street, from the Peace Bridge to downtown.
First, officials want to focus on and complete the Cars Sharing Main Street project to restore two-way traffic from the Medical Campus to the waterfront on the city's "central spine." That priority project, which is transforming the look of the roadway, has been completed from Goodell Street almost to Fountain Plaza, as well as secondary side streets, with the 500 block portion wrapping up in the fall. And it has helped attract private-sector investments to improve storefronts and building facades along the way, while bringing residents and businesses to neglected buildings.
Main Street also connects all of the various "nodes" or districts in the plan. So the city wants to extend the new streetscape design that is being used in the 700 block of Main to other downtown streets to create a consistent template, with slight modifications, to pay tribute to unique characteristics of different neighborhoods. Specifics include changes to streetscapes, lighting, sidewalks, bike lanes and public or green spaces, plus public art.
The civic node in the heart of downtown includes government and office buildings, as well as both Niagara and Lafayette squares, with their "signature buildings" and "monumental character," said Dan Leonard, director of economic development at the Buffalo Niagara Partnership. The plan calls for making their green space or public space more usable by overhauling Lafayette Square and the Buffalo & Erie County Public Library plaza, while enhancing Niagara Square with movable tables and chairs or an outdoor cafe. Traffic on Broadway and William Street would also be calmed, and medians could be planted.
The entertainment node, centered around Chippewa Street and the Theatre District, could incorporate different lighting and design themes to highlight its artistic side, as well as customized and locally designed street furniture and new public space. And the Erie and Shelton node, with Fireman's Park and Five Flags Park, is designed to reconnect Michigan Street and Erie Community College to Lake Erie with green space and calmer traffic. That will also get ECC students "out and enjoying downtown and spending money downtown, not just sitting in class," Leonard said. Plans also call for beautifying Erie Street as it passes under the Niagara Thruway, making it more walkable.
"Over the last 60 years, we've spent a lot of time building barriers," Leonard said. "The plan here is to incrementally see how we can address some of those barriers."