We are now accepting applications for the Buffalo Building Reuse Loan Fund (BBRLF), which provides low interest gap financing for adaptive reuse projects in downtown Buffalo. Eligible projects may receive a maximum of $750,000 in financing for up to 54 months. Projects will be reviewed on a quarterly basis. The deadline for first quarter applications is Friday, March 30, 2018. Click on the link below for application.
BBRP Quarter 1 2018 - Loan RFP

------------------------------------------------------------------------------------------------------------------------------------------
SOUTH BUFFALO BROWNFIELD OPPORTUNITY AREA (BOA)
The City of Buffalo and Buffalo Urban Development Corporation are hereby providing Notice of Intent to nominate the South Buffalo BOA in the Brownfield Opportunity Areas (BOA) Program to the New York State, Department of State for official designation. Successful designation of the South Buffalo BOA will make available additional Brownfield Tax Credits for eligible projects, and give project grant or financing applications priority and preference from state, federal and local agencies as allowed by law. Copies of the BOA Nomination document are available for review through this link: South Buffalo BOA Designation Document
---
Mayor Brown, BUDC Release
2016 Downtown Development Guide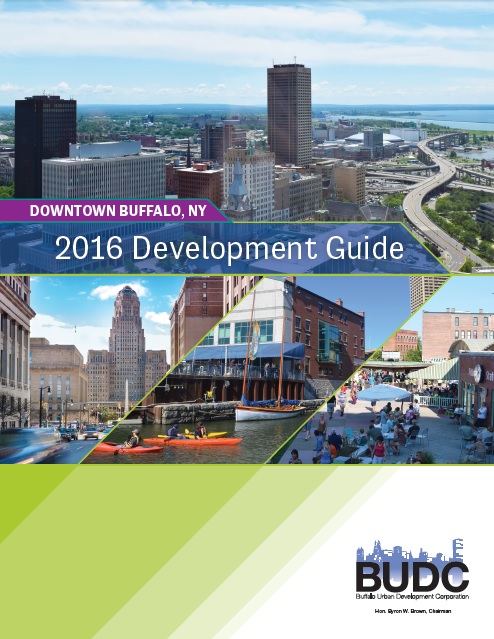 Identifying downtown Buffalo development opportunities is even easier with the release of a new guide that provides investors with a profile of downtown's greatest assets and a listing of available tools and incentives. The guide also identifies over 20 unique parcels ready for redevelopment.
Sponsored by National Grid, the guide is the result of a collaborative partnership between Mayor Byron W. Brown, Chairman of the Buffalo Urban Development Corporation, Buffalo Niagara Partnership, Buffalo Niagara Enterprise, CBRE Buffalo, and Buffalo Place.
To view a press release about the guide's debut, click

here.
To download the guide, click

here.